The medical suspensions for Bellator 122 have been released by the California State Athletic Commission and Philipe Lins is one of two fighters facing a suspension of six months.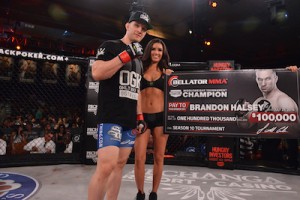 The commission released the medical suspensions on Tuesday and the suspensions were forwarded to TheMMAReport.com after they were requested.
Bellator 122 took place last Friday night at the Pechanga Resort and Casino in Temecula, California and was headlined by Andrey Koreshkov winning the season ten welterweight tournament with a decision victory over Adam McDonough.
Every fighter on the card received the mandatory suspension of seven days, which the California State Athletic Commission always hands out and the longest suspensions went to Lins and Matt Flembling. Both fighters are facing a potential six month suspension as Lins may have a dislocated left knee while Flembling received the lengthy suspension for possible multiple hand brakes.
The complete Bellator 122 medical suspensions are below:
Andrey Koreshkov: 7-Day Mandatory Suspension
Adam McDonough: Suspended 45 days and no contact for 30 days (hard bout)
Brandon Halsey: 7-Day Mandatory Suspension
Brett Cooper: 7-Day Mandatory Suspension
Liam McGeary: 7-Day Mandatory Suspension
Egidijus Valavicius: Suspended 45 days and no contact for 30 days (KO). Also, suspended 60 days and no contact for 60 days (cut nose)
Karo Parisyan: 7-Day Mandatory Suspension
Phil Baroni: Suspended 45 days and no contact for 30 days (KO)
Kelly Anundson: 7-Day Mandatory Suspension
Philipe Lins: Suspended 45 days and no contact for 30 days (KO). Also, suspended 180 days and no contact for 180 days or cleared by doctor (possible dislocated left knee)
Linton Vassell: 7-Day Mandatory Suspension
Virgil Zwicker: 7-Day Mandatory Suspension
Augusto Sakai: 7-Day Mandatory Suspension
Matt Flembling: Suspended 45 days and no contact for 30 days (KO). Also, suspended 180 days and no contact for 180 days or cleared by doctor (possible multiple hand brakes)
Bubba Jenkins:7-Day Mandatory Suspension
Poppies Martinez: Suspended 45 days and no contact for 30 days (KO)
Fernando Gonzalez: 7-Day Mandatory Suspension
Karl Amoussou: Suspended 60 days and no contact for 60 days or cleared by a doctor (cut right eye and forehead)
Saad Awad: 7-Day Mandatory Suspension
Joe Duarte: Suspended 45 days and no contact for 30 days (KO)
Sergio Rios: Suspended 60 days and no contact for 60 days, unless cleared by a doctor (cut right eye)
Stephen Martinez: Suspended 45 days and no contact for 30 days (KO)