Cung Le was defeated in the main event of UFC Fight Night 48 by Michael Bisping and the UFC has announced that Le tested positive for Human Growth Hormone in his post fight drug test.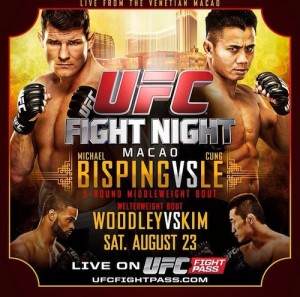 The UFC announced the positive drug test in a statement released to the media on Tuesday evening and Le has been suspended nine months by the promotion.
"UFC middleweight Cung Le tested positive for an excess level of Human Growth Hormone in his system following his fight at UFC Fight Night in Macao, China on August 23," the statement said. "Due to his positive test result, Le was suspended by the UFC and notified that he violated the UFC Fighter Conduct Policy and Promotional Agreement with Zuffa, LLC. The UFC has a strict, consistent policy against the use of any illegal and/or performance-enhancing drugs, stimulants or masking agents by our athletes. Le will serve a nine-month suspension and, at its conclusion, will need to pass a drug test before competing in the UFC again."
In addition, the UFC announced that all of the drug test results from UFC Fight Night 47, UFC Fight Night 49, UFC 177, and UFC Fight Night 50 came back negative.
UPDATE: On Wednesday evening, the UFC issued a new statement and clarified that Le has been suspended twelve months for his failed drug test, and not nine months.
"After review by UFC Senior Management, an error was discovered regarding the length of Cung Le's suspension due to a failed drug test," the UFC said in a statement on Wednesday. "While originally stated as nine months, the correct suspension period to be enforced is 12 months."
"Le tested positive for an excess level of Human Growth Hormone in his system following his fight at UFC Fight Night in Macao, China on August 23. He will still be required to pass a drug screening before being allowed to compete in the UFC following the completion of his suspension."