UFC Fight Night 54 will take place on Saturday in Halifax, Nova Scotia, Canada and the UFC has announced the finalized fight card lineup.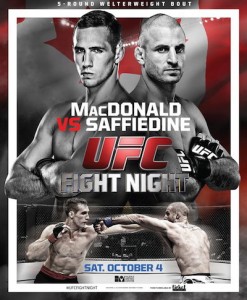 The preliminary card will begin with two fights on Fight Pass at 7 p.m. ET/4 p.m. PT and the final four preliminary bouts will be show at 8 p.m. ET/5 p.m. PT on Fox Sports 1.
Following the conclusion of the preliminary card, the main card on Fox Sports 1 will start at 10 p.m. ET/7 p.m. PT and will be headlined by a welterweight bout as Rory MacDonald meeting Tarec Saffiedine.
The current UFC Fight Night 54: MacDonald vs. Saffiedine fight card is below.
Main Card: (Fox Sports 1 – 10 p.m. ET/7 p.m. PT)
Rory MacDonald (17-2) vs. Tarec Saffiedine (15-3)
Raphael Assuncao (22-4) vs. Bryan Caraway (19-6)
Chad Laprise (9-0) vs. Yosdenis Cedeno (10-3)
Elias Theodorou (9-0) vs. Bruno Santos (14-1)
Nordine Taleb (9-2) vs. Li Jingliang (9-2)
Mitch Gagnon (11-2) vs. Roman Salazar (9-2)
Preliminary Card: (Fox Sports 1 – 8 p.m. ET/5 p.m. PT)
Daron Cruickshank (15-5) vs. Anthony Njokuani (16-8, 1NC)
Olivier Aubin-Mercier (5-1) vs. Jake Lindsey (9-1)
Jason Saggo (10-1) vs. Paul Felder (8-0)
Patrick Holohan (10-0-1) vs. Chris Kelades (7-1)
Preliminary Card: (Fight Pass – 7 p.m. ET/4 p.m. PT)
Albert Tumenov (13-2) vs. Matt Dwyer (7-1)
Jerrod Sanders (14-2) vs. Pedro Munhoz (11-1)