This past Saturday night saw MMA cards from the UFC, Bellator, and the World Series of Fighting and the television ratings for all three have come in.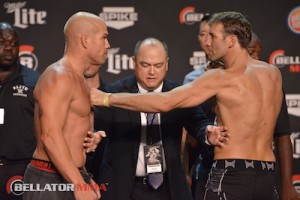 According to Nielson sources, UFC 180 prelims on Fox Sports 1 average 624,000 viewers with a peak of 771,000 in last quarter hour of broadcast while WSOF 15 main card on NBCSN came in with 179,000 viewers.
For the UFC, the number of 624,000 is up nearly 24 percent from the UFC 179 number of 536,000. With the viewership from Saturday, the UFC PPV prelim average on Fox Sports 1 is now at nearly 739,000. When it comes to WSOF ratings, this is the first time since WSOF 7 (12/7/13) that the promotion has been under 200,000 viewers. The average viewership for WSOF in 2014 on NBCSN is now at nearly 240,000 and the 2013 average viewership for them was nearly 193,000.
Per Spike TV, the Bellator 131 card average 1.241 million viewers and peaked at 2 million viewers during the main event bout between Tito Ortiz and Stephan Bonnar. The main event had an average of 1.8 million viewers and ranks as 2nd highest-rated MMA fight telecast in all of television with Men 18-34 and Men 18-49, including broadcast, in 2014 (#1 is UFC on FOX on January 25, 2014). Also, Ortiz/Bonnar ranked #2 in its time slot in all of cable with Men 18-34 and Men 18-49.
All of the fights on the main card broadcast had at least 1.1 million viewers with the second most viewed fight in the preliminary ratings begin Joe Schilling vs. Melvin Manhoef with 1.6 million. The co-main event title bout between Will Brooks and Michael Chandler had 1.3 million which the Muhammed Lawal vs. Joe Vedepo and Mike Richman vs. Nam Phan had 1.1 million.
With the viewership from Saturday night, the Bellator average for season eleven finishes at 729,000 and this is up from the season ten main card average of 683,000. Bellator 131 marks the third time this season that the promotion has peaked at over 1 million viewers and the previous high peak of 2014 was 1.271 in Live+SD ratings for Bellator 124.
"Bellator 131 was an incredible event that had something for everybody, and I'm thrilled to see our efforts were so well-received by our fans," Bellator MMA President Scott Coker said in a press release. "I'm very proud of our entire Bellator and Spike family for all of the hard work they put resulting in these record-breaking ratings. The most exciting thing for me is the knowledge that that we are just getting started, and I can't wait for everyone to see what we have in store for the future."
As always stay tuned for all the updated UFC, WSOF and Bellator television ratings right here on TheMMAReport.com