It was nearly one week ago that we learned that the Bellator 131 main card on Spike TV average 1.2 million viewers and the main event bout between Tito Ortiz and Stephan Bonnar averaged 1.8 million viewers with a peak of over 2 million.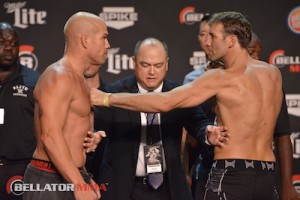 The viewership marked the biggest audience in Bellator history, topping last year's Bellator 106, which drew an average of 1.1 million viewers.
In 2014, it was the first time a Bellator event averaged over 1 million viewers and was the seventh time this year that the peak in the preliminary ratings (Live+SD) had at least 1 million viewers.
After getting the ratings, it made me think. What is the state of MMA in terms of ratings right now? What kind of fights are bringing people to the television? Do organizations like Bellator and the UFC have to promote fights like Ortiz/Bonnar to get the big ratings they are starving for?
Let's start off by looking at Bellator's television ratings on Spike TV in 2014. During season ten, the cards that drew a peak of over 1 million in the preliminary ratings were 110 (Rampage/M'Pumbu), 112 (Curran/Straus), 115 (Minakov/Kongo), and 118 (Warren/Silva). In the recently completed season eleven, the cards to achieve at least a peak of 1 million were 124 (Newton/Beltran), 125 (Manhoef/Marshall), and 131 (Ortiz/Bonnar).
In terms of the UFC, their biggest numbers in 2014 on Fox Sports 1 have been UFC Fight Night 36: Machida vs. Mousasi (1.4 million average, peak of 1.7 million), UFC Fight Night 39: Henderson vs. Shogun (936k average, peak of 1.2 million), and UFC Fight Night 42: Henderson vs. Khabilov (1.2 million average, peak of 1.5 million). On FOX, the UFC produced three events so far in 2014 with UFC on FOX 10: Henderson vs. Thomson (3.1 million average, peak of 4.4 million), UFC on FOX 11: Werdum vs. Browne (2.5 million average, peak of 3.2 million), and UFC on FOX 12: Lawler vs. Brown (2.4 million average, peak of 3.4 million).
When discussing television ratings, the platforms have to be mentioned. It's tough to compare Spike TV to Fox Sports 1 and Spike TV to FOX. Spike TV is a basic cable channel and is in more that 100 million homes, while Fox Sports 1 is not a basic cable channel and is in about 90 million homes. Depending on your cable/satellite provider, Fox Sports 1 may be on a lower package or could even be on a sports tier package.
Fox Sports 1 launched on August 17, 2013 and the debut featured a majority of UFC content including UFC Fight Night 26: Sonnen vs. Shogun. That fight card is currently the biggest viewership for a UFC Fight Night event on Fox Sports 1 with an average audience of 1.7 million and a peak of 2.2 million.
Since the debut of Fox Sports 1, UFC Fight Night cards on the network are averaging 812k, 19 percent more than Bellator's average of 685k over this time period. The UFC having a better average over Bellator should not come as a surprise to anyone, but is the new vision of Bellator a treat to narrowing that gap?
Back in June, Viacom decided to part ways with Bjorn Rebney and Tim Danaher as the leaders of Bellator and brought in former Strikeforce CEO Scott Coker to run day-to-day operations of Bellator. Due to the ratings of Bellator 131, the average viewership of season eleven (729k) was higher that season ten (683k). Prior to Bellator 131, the season eleven average was lower, which had to be a disappointment to the executives at Viacom and Bellator.
Of course, it can be said that the new era of Bellator did not begin until Bellator 131. Coker has talked about making big fights in the promotion and the Bellator 131 card had some of his biggest names including Ortiz, Bonnar, and Muhammed "King Mo" Lawal. All of the fights on the Bellator 131 card averaged at least 1.1 million viewers, including a preliminary bout that was re-aired during the main card.
First off, I think it's tremendous that Bellator was able to get the amount of viewers that they received just over 1 week ago. However, a fight like Ortiz/Bonnar can get 1.8 million viewers, while a fight between top UFC lightweights Benson Henderson and Rafael Dos Anjos at UFC Fight Night 49 (August 23, 2014) only averaged 699k in the preliminary ratings while the peak for the event was 962k.
On cable in 2014, Ortiz/Bonnar is the largest viewership, with the second largest being UFC Fight Night 36 in February. Should the UFC consider doing more "fun" fights in 2015 to draw more viewers, like what Coker booked for Bellator 131?
It's unlikely, but the data shows what kind of fights fans are looking for now. They want to see fights that have big names and fights that will likely end in a knockout (Melvin Manhoef vs. Joe Schilling).
As someone who runs a mixed martial arts news website, I want to see the UFC, Bellator, WSOF, and other promotions break television records for the sport every week. However, I do wonder if we are currently just in a period of the sport that fans are tired of the amount of cards or if the sport is actually in a decline.