A featherweight bout that was reported yesterday by Combat Press is now official as Ultimate Fighter Latin America winner Yair Rodriguez will meet Charles Rosa at UFC 188.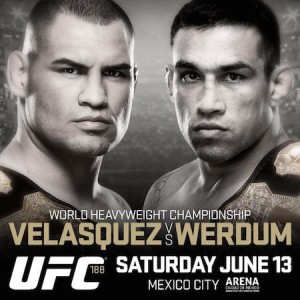 The fight booking was confirmed today by the UFC.
UFC 188 will come from the Mexico City Arena on June 13 and will be headlined by a heavyweight title unification bout as Cain Velasquez meets Fabricio Werdum.
Rodriguez (4-1) won The Ultimate Fighter Latin America in November as he defeated Leonardo Morales by unanimous decision at UFC 180. It was his second straight win and two of his four wins have come by decision. Rosa (10-1) lost his UFC debut last year when he stepped up on six days notice to meet Dennis Siver at UFC Fight Night 53. He returned to the octagon last month at UFC Fight Night 59 and he defeated Sean Soriano by submission.
The current UFC 188: Velasquez vs. Werdum fight card is below.
Cain Velasquez (13-1) vs. Fabricio Werdum (19-5-1)
Gilbert Melendez (22-4) vs. Eddie Alvarez (25-4)
Tecia Torres (5-0) vs. Angela Hill (2-0)
Augusto Montano (15-1) vs. Cathal Pendred (16-2-1)
Yair Rodriguez (4-1) vs. Charles Rosa (10-1)