A heavyweight bout is now official for KSW 31 as Mariusz Pudzianowski will meet Rolles Gracie in the co-main event of the fight card.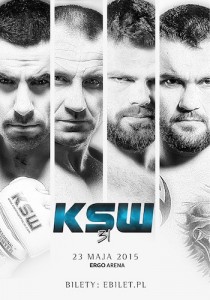 KSW officials recently announced the fight booking.
KSW 31 will come from the Ergo Arena in Gdańsk, Poland on May 23 and the fight card will be headlined by KSW middleweight champion Michał Materla facing Tomasz Drwal.
Gracie (8-3) has lost back to back fights and is coming off a TKO defeat against Karol Bedorf at KSW 28. His last win came at the end of 2012 as he defeated Yusuke Kawaguchi by submission. Pudzianowski (8-3, 1NC) has won three in a row and five of his last six. His most recent victory came in December at KSW 29 as he defeated Paweł Nastula by unanimous decision.
The current KSW 31: Materla vs. Drwal fight card is below.
Michał Materla (21-4) vs. Tomasz Drwal (21-4-1)
Mariusz Pudzianowski (8-3) vs. Rolles Gracie (8-3)
Karol Bedorf (11-2) vs. Peter Graham (11-7)
Attila Vegh (29-5-2) vs. Goran Reljic (14-4)
Maciej Jewtuszko (11-2) vs. Robert Radomski (12-3)
Jay Silva (9-9-1) vs. Aziz Karaoglu (7-6)
Karol Celinski (12-5-1) vs. Tomasz Narkun (9-2)
Patryk Grudniewski (5-4) vs. Grzegorz Szulakowski (5-1)