The eight episode of The Ultimate Fighter Brazil 4: Team Nogueira vs Team Shogun premiered earlier this week on UFC Fight Pass, and if you didn't check out the show, here's a recap of what you missed.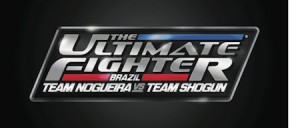 What Happened:
Team Shogun's Joaquim Silva advanced to the lightweight semifinals by winning a decision over Team Nogueira's Erick Da Silva, Giovanni Santos left the show and the next fight was announced.
The Fight:
In a fight that went to a sudden victory third round, Joaquim Silva (7-0) proved to have the superior gas tank and striking to outpoint Erick Da Silva (17-5) and win a decision.
Joaquim dropped a close first round that saw Da Silva get the better of Joaquim with leg kicks. The gap between the two widened in the second frame in favor of Joaquim as he was able to control the footwork of the fight, land several big punches amidst combinations and drop Da Silva a couple of times. The third was a bit more close, but Joaquim turned it on towards the latter half of the period to earn the tough victory.
Team Shogun improves to 6-0, and Silva joins his teammates, Glaico Franca and Nazareno Malegarie, in the lightweight semifinals.
Fight Announcement:
In the last bantamweight quarterfinal of the season, Matheus Mattos (8-0-1) and Reginaldo Vieira (12-3) will square off. Both Mattos and Vieira are members of Team Nogueira.
Notes:
– The reason why the next fight pits two of Team Nogueira's fighters against one another is because Team Shogun's Giovanni Santos left show due to several injuries as well as a bacterial infection. Dana White came to the gym, saw Santos and allowed Leandro Higo to come back in the show and fight in Santos' place. Well, later on after accepting the fight, Higo told Nogueira that he couldn't fight because of injuries he's dealing with as well as the tough weight cut, so finally, Reginaldo Vieira stepped up in place of Leandro Higo who stepped up in place of Giovanni Santos.
– Even though Team Shogun has had great success over Team Nogueira, the fighters from both teams have bonded with one another, and there really isn't much divisiveness in the house.
– The ring card girl for the Silva/Da Silva fight was Noelle Freeman. She's 25 and works in digital marketing.
– As far as weight goes, both Joaquim Silva and Erick Da Silva weighed in at 155.5 pounds.