UFC Fight Night 72 took place this past weekend in Glasgow, Scotland and was headlined by Michael Bisping defeating Thales Leites by split decision.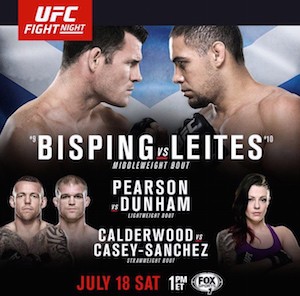 According to Nielson sources, the main card broadcast on FOX Sports 1 had an average live audience of 508,000 viewers and the show peaked at 731,000 viewers in the 4:00-4:15 p.m. ET quarter hour.
Prior to the main card broadcast, the televised preliminary card was also shown on FOX Sports 1 (11 a.m. – 1 p.m. ET) and averaged 292,000 viewers.
This is the second time in 2015 that the UFC has done a Saturday afternoon card on FOX Sports 1, with the previous fight card coming in April for UFC Fight Night 63. That card average 389,000 viewers from the main card and peaked at 489,000 viewers.