UFC on FOX 16 will take place on Saturday from Chicago, Illinois and will be headlined by title fight rematch as T.J. Dillashaw defends the bantamweight title against former champion Renan Barao.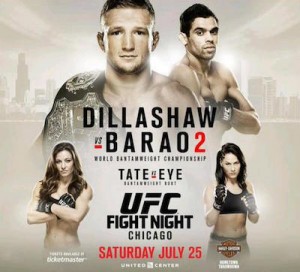 Coming up today at 5 p.m. ET/2 p.m. PT on FOX will be the Road to the Octagon special, which previews the fights that will be on the main card next week.
Following the conclusion of today's airing on FOX, the UFC will post the show online and the current UFC on FOX 16: Dillashaw vs. Barao II fight card lineup is below.
Main Card: (FOX – 8 p.m. ET/5 p.m PT)
T.J. Dillashaw (11-2) vs. Renan Barao (33–2, 1NC)
Miesha Tate (16-5) vs. Jessica Eye (11-2,1 NC)
Edson Barboza (15-3) vs. Paul Felder (10-0)
Joe Lauzon (24-10) vs. Takanori Gomi (35-10, 1NC)
Preliminary Card: (FOX – 6 p.m. ET/3 p.m. PT)
Gian Villante (13-5) vs. Tom Lawlor (9-5, 1NC)
Jim Miller (24-6, 1NC) vs. Danny Castillo (17-8)
Kenny Robertson (15-3) vs. Ben Saunders (16-6-2)
Eddie Wineland (21-10-1) vs. Bryan Caraway (19-7)
Preliminary Card: (Fight Pass – 4:15 p.m. ET/1:15 p.m. PT)
Daron Cruickshank (16-6, 1NC) vs. James Krause (21-7)
Ramsey Nijem (9-5) vs. Andrew Holbrook (9-0)
Jessamyn Duke (3-2, 1NC) vs. Elizabeth Phillips (4-3)
Zak Cummings (17-4) vs. Dominique Steele (13-5)