The UFC had two live fight cards on FOX Sports 1 this past weekend with the preliminary card for UFC 189 and The Ultimate Fighter 21 Finale.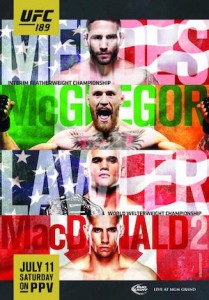 According to Nielson sources, the viewership for the preliminary card of UFC 189 was 847,000 viewers and peak viewership of the broadcast came in the 9:15-9:30 quarter hour with 989,000 viewers.
Before the preliminary card started on FOX Sports 1, the pre-fight show averaged 345,000 viewers (7:37-8p ET) and the post fight show came in with 194,000 viewers. The viewership of the post fight show was an increase of 25 percent over last year's July UFC pay-per-view.
Additionally, the UFC 189 Weigh-in Show on Friday night on FOX Sports 1 tallied 178,000 viewers and 78,000 A18-49, up 39% on viewership (vs. 128,000) and 30% on A18-49 (vs. 60,000) compared to the average of live UFC Weigh-ins on FOX Sports 1 to date. It was also the most watched Weigh-in on FOX Sports 1 to date that did not include Ronda Rousey.
On Sunday, the televised preliminary card and main card of The Ultimate Fighter 21 Finale both aired on FOX Sports 1. The preliminary card drew 470,000 viewers and the main card averaged 691,000 viewers. The peak viewership for the main card was 778,000 viewers from 11-11:15 p.m. ET. Following the conclusion of the main card, the post fight show was part of Fox Sports Live and average 248,000 viewers.
Stay tuned to TheMMAReport.com for more updates on MMA TV ratings.