The UFC 190 Preliminary Card on FOX Sports 1 took place this past Saturday in Brazil and featured Demian Maia submitting Neil Magny in the second round.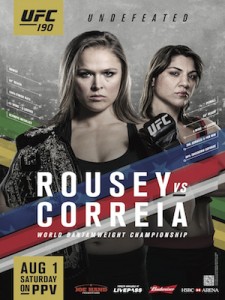 According to Nielsen sources, the UFC 190 preliminary overnight viewership number for the prelims landed at 1,322,000 viewers and this is the third most watched UFC pay-per-view preliminary card in FOX Sports 1 history. Also, the prelims took the top spot in primetime among all ad supported cable sports networks.
The televised prelims on FOX Sports 1 peaked at 1,599,000 viewers in the 9:15-9:30 p.m. ET quarter hour and the viewership was up +13% on household rating (1.04 vs. 0.92) and +10% on average audience (1,322,000 vs. 1,205,000) over the prelims for Rousey's last main event PPV card (UFC 184).
Prior to the televised preliminary card, the pre fight show (7:00-8:00 p.m. ET) averaged 518,000 viewers making it the third most watched PPV pre-fight in FOX Sports 1 history. Following the main card on pay-per-view, the post fight show on FOX Sports 1 (1:42-2:42 a.m. ET) averaged 438,000 viewers and ranks as the second most-watched post fight show in FOX Sports 1 history.
Here is the UFC pay-per-view preliminary card numbers in 2015 to date.
UFC 182: 1,004,000
UFC 183: 1,546,000
UFC 184: 1,205,000
UFC 185: 1,003,000
UFC 186: 710,000
UFC 187: 780,000
UFC 188: 727,000
UFC 189: 847,000
UFC 190: 1,322,000
Stay tuned to TheMMAReport.com for more updates on MMA TV ratings.