It may have not been until earlier this year that you became aware of Missouri based promotion Shamrock FC, but the promotion has been around for awhile.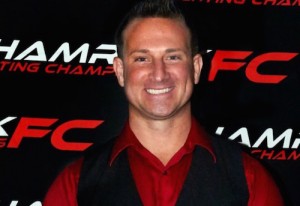 Shamrock FC CEO Jesse Finney has been promoting events for nearly 18 years and is a former fighter. He decided to call it a career in 2010 and since that time, he has been concentrating on promoting Shamrock FC.
Finney was a key player in helping promote the Bellator 138 card earlier this year in St. Louis and this was due to his relationship with Bellator President Scott Coker.
"Scott and I have a long relationship from fighting with him in the past and he has been a mentor to me," Finney told The MMA Report. "He has helped me out in a lot of different avenues and became good friends. It's almost been a natural fit. Before he went to Bellator, we had talked. It's all about relationships in this sport and I feel like some people try to hold it all to themselves. I really don't think it has to be that way. If everybody tried to work together a little bit and help each other, it will get you further in this sport. I think we have proven that time and time again. I think we will continue that in the long term."
Around the time that Finney helped Bellator with the promotion of the St. Louis card earlier this year, word came out that Shamrock FC champions would receive contracts with Bellator. Many people wondered how this all works and Finney made it clear that the fighters that win a title in Shamrock do not have to accept the Bellator contract and ultimately it's up to the fighter where they want to go.
"We are lucky to have the relationship that if you win the belt through Shamrock, you automatically receive a contract straight into Bellator. It's a long term deal with Bellator so it's not just a gimme contract where you get a one fight deal. It's a long term deal where they are going to be financially rewarded nicely and they are going to be taken care of. We have a great relationship with Bellator and this is something I say all the time. I know we are the AAA of MMA. I think we can compete with the RFA and Legacy's of the world. I strongly believe that.
"They [fighters] have the dream of being in the big leagues and making a career of this," he continued. "Let's face it, the only places you can make a ton of money is in the UFC or Bellator at this point. I do not want to hold anyones dream back from that. Once they win the belt with Shamrock, they don't have to go to Bellator. They have the option to go to the UFC as well. We don't have a direct contract with the UFC, but we have put a lot of guys in the UFC."
Shamrock FC's next event will be on September 11 and information on that event can be found on the promotions website.