UFC 190 took place earlier this month at the HSBC Arena in Rio de Janeiro, Brazil and all of the drug test results came back clean.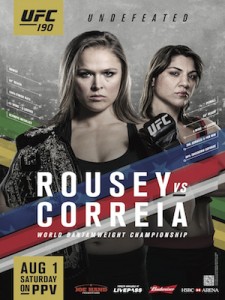 The Brazilian MMA Athletic Commission announced the drug test results on Wednesday and released the following statement on the testing that took place for the event.
"The Brazilian MMA Athletic Commission (CABMMA) states that the athletes who participated in UFC 190, held in Rio de Janeiro on Aug. 1, 2015, were subject to doping control tests to detect substances in accordance with the Word Anti-Doping Agency (WADA) Prohibited List," the commission said in a statement sent to the media. "The athletes were subject to a comprehensive testing program that consisted of both blood and urine collections. All results came back negative. The urine and blood samples were collected by a team of Doping Control Officers (DCO), all of whom are certified in accordance with the WADA International Standards, and sent to WADA-accredited laboratories for analysis.
"All sample collections were conducted by personnel from CABMMA or the Brazilian Authority for Doping Control (ABCD), with representatives from the U.S. Anti-Doping Agency (USADA) present during the sample collection process as well."
UFC 190 was headlined by Ronda Rousey retaining the UFC women's bantamweight title with a knockout victory against Bethe Correia. The main card was saw victories from Mauricio "Shogun" Rua, Glaico França, Reginaldo Vieira, Stefan Struve, Antonio "Bigfoot" Silva, and Claudia Gadelha.