Bellator 142 took place on Saturday night at the SAP Center in San Jose, California and the card was headlined by Liam McGeary retaining the light heavyweight title by submitting Tito Ortiz in the first round.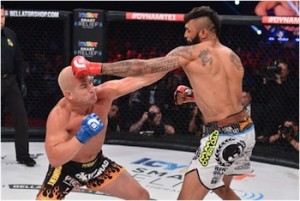 According to Nielson sources, Bellator 142's preliminary live average viewership landed at 800,000 total viewers and the show peaked at 930,000 viewers in the 9:15-9:30 p.m. ET quarter hour.
Bellator 142 was number two in the timeslot on cable with Men 25-54 and Men 35-49 behind the Mississippi vs. Alabama game on ESPN, which drew an average audience of 7.6 million viewers.
Saturday night's event was the fourth "tent pole" event promoted by Bellator President Scott Coker and this is the lowest average viewership for a "tent pole" event. The previous low came back in February when Bellator 134 average 872,000 viewers.
With the viewership from Saturday night, the overall average for a Bellator event in 2015 is 783,000 viewers and the complete television history for Bellator under Scott Coker is below.
Bellator 122: 572,000
Bellator 123: 667,000
Bellator 124: 771,000
Bellator 125: 742,000
Bellator 126: 656,000
Bellator 127: 609,000
Bellator 128: 668,000
Bellator 129: 564,000
Bellator 130: 664,000
Bellator 131: 1.2 million *
Bellator 132: 767,000
Bellator 133: 565,000
Bellator 134: 872,000 *
Bellator 135: 607,000
Bellator 136: 655,000
Bellator 137: 594,000
Bellator 138: 1.6 million *
Bellator 139: 764,000
Bellator 140: 722,000
Bellator 141: 666,000
Bellator 142: 800,000 *
* – Tent Pole Event