UFC Fight Night 75 took place this past weekend at the Saitama Super Arena in Saitama, Japan and was headlined by Josh Barnett defeating Roy Nelson by unanimous decision.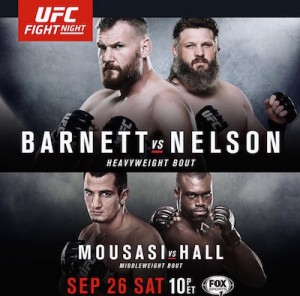 According to Nielson sources, the main card broadcast on FOX Sports 1 had an average live audience of 841,000 viewers and the viewership is down 3 percent from the year-to-date average.
In the key demographic of Adults 18-49, the main card scored scored 542,000 viewers, a 3 percent increase compared to the FOX Sports 1 Fight Night average to date and the fight card was the most-watched show of the day on FOX Sports 1.
The peak viewership of the broadcast came during the 12:45-1 a.m. ET quarter-hour with 1,103,000 viewers and the prelims on FOX Sports 2 averaged 260,000 viewers. The viewership from the prelims is the 10th most watched telecast in FOX Sports 2 history and is also most-watched show of the day.
The UFC will return to FOX Sports 1 this weekend with the televised preliminary card for UFC 192. The prelims will begin at 8 p.m ET/5 p.m. PT and will feature a flyweight bout between former title challengers as Joseph Benavidez meets Ali Bagautinov.