In the first episode of "Embedded" for UFC 192, Tyron Woodley throws out the first pitch at a recent St. Louis Cardinals game and Johny Hendricks plays soccer with his kids in Texas.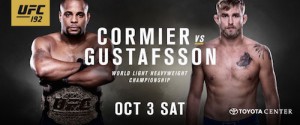 Also, Alexander Gustafsson does media in New York to promote UFC 192 while Daniel Cormier goes through a workout at American Kickboxing Academy in San Jose.
Check out the complete first episode of "UFC 192 Embedded" below.