Bantamweight Danny Aguirre will look to become a champion on Friday night in St. Louis when he will challenges Jordan Howard for the Shamrock FC 135 pound title in the main event of Shamrock FC: Fuel.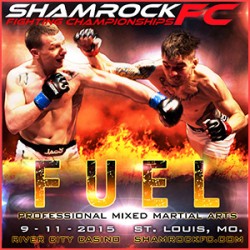 The mixed martial arts journey for Aguirre started just a couple of days after his 18th birthday when he signed up for his first amateur fight with his father. While Aguirre's mother has warmed up to the idea of his career as a fighter, she was not happy about the decision initially.
"She is a little bit more warmed up to it," Aguirre stated on The MMA Report Live. "She was not happy when I took my first amateur fight though. I signed up for my fight like — it was a few days after I turned 18 that was my fight. Pretty much, me and my dad agreed that I was going to do it. When my mom found out, she was not happy. We kind of told her that I am 18 now and I can do it. She has warmed up to it now and she is very supportive. Both of my parents are very supportive of it."
Aguirre (9-3) made his professional debut in 2010 and started his career with four straight victories and three of those wins came by stoppage in the first round. Six of his nine wins have come by submission and Friday night will be his debut in Shamrock FC. His previous five fights came in the Illinois promotion Xtreme Fighting Organization (XFO) and he is coming off a win against Shawn Bottoms by rear-naked choke submission at XFO 53.
Along with the Shamrock FC bantamweight title being on the line, a potential contract with Bellator is on the line as well. His opponent enters this fight on a seven fight winning streak and his last six wins have come by stoppage, with five of those wins coming in the first round. Aguirre knows he is facing a tough opponent, but feels this is a good matchup for him.
"He is a tough fighter and anybody that get's in the cage in front of a bunch of people is a pretty tough guy," Aguirre explained. "It's not an easy thing to do and you can not take anybody lightly that gets into the cage. Especially at the professional level and has as many wins as he does. It's not like he just got a win by default. He is a tough guy and I have to respect that, but I think it's a good fight for me. The matchup is good for me. I just have to go get in his face and put him out before he is able to turn it up."
Shamrock FC CEO Jesse Finney recently explained to The MMA Report about the ability for Shamrock FC champions to go directly into Bellator. For Aguirre, he thinks it's a great incentive to have. However, his concerns are getting past Howard first before thinking about the possibility of fighting in Bellator.
"I think it's a really good incentive to go out there and win and too win impressively to have a good performance," he stated. "I think it's something I try to think about too much. Any fight is important to win no matter what. I do not think it makes it that much of — more of a reason why I should fight harder and train harder. I think it's an extra incentive to have to win."
Shamrock FC: FUEL will come from the River City Casino in St. Louis, Missouri on Friday and the event will be available on the Shamrock FC website for a price of $12.99.