The UFC Fight Night 75 Weigh-Ins took place on Saturday afternoon in Japan and the fight card is now official with ten fights after all of the fighters made weight.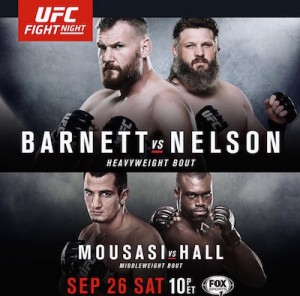 The weigh-ins came from the Saitama Super Arena and the same venue will host tomorrow night's fight card.
The event will be headlined by a heavyweight bout as Josh Barnett (239 lbs) meets Roy Nelson (261 lbs) in a fight scheduled for five rounds.
The complete UFC Fight Night 75 Weigh-In Results and Replay Video are below.
Main Card: (FOX Sports 1 – 10 p.m. ET/7 p.m. PT)
Josh Barnett (239) vs. Roy Nelson (261)
Gegard Mousasi (186) vs. Uriah Hall (186)
Kyoji Horiguchi (125) vs. Chico Camus (126.5)
Takeya Mizugaki (136) vs. George Roop (135)
Katsunori Kikuno (145) vs. Diego Brandao (146)
Mizuto Hirota (146) vs. Teruto Ishihara (146)
Preliminary Card: (FOX Sports 2 – 8 p.m. ET/5 p.m. PT)
Keita Nakamura (170) vs. Li Jingliang (171)
Nick Hein (155) vs. Yusuke Kasuya (156)
Naoyuki Kotani (156) vs. Kajan Johnson (156)
Shinsho Anzai (170) vs. Roger Zapata (171)