UFC Hall of Famer B.J. Penn was a guest on last night's edition of UFC Tonight on FOX Sports 1 and the interview began with Penn talking about his biggest career accomplishments.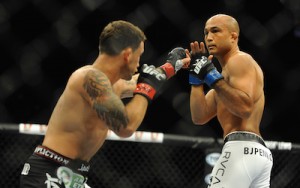 Penn would end up discussing what he is currently doing and Michael Bisping asked the former champion about fighting in different weight classes.
Following Penn's answer to Bisping's question, Kenny Florian asked Penn about his last fight, which was against Frankie Edgar at The Ultimate Fighter 19 Finale in July of 2014. Penn took the opportunity to give his opinion on Mike Dolce and issued a challenged to one of Dolce's clients.
"I'm sick and tired of hearing about Mike Dolce," Penn said on UFC Tonight. "I'll put a challenge out right now: You go get Nik Lentz, your boy, bring him down to 145 and I'll run right through him in one round and then I'll find you in the back and smash you. If Dolce says I don't train, let's do this. I would come out for this. Some things were said, got heated. I worked with him for 20 days and paid him $1000 a day. I'm sick of hearing that."
If Penn were to come out of retirement, he would come back at featherweight. He admitted that he has not been in the gym in two years and would come back for a grudge match. Penn has not talked to the UFC about a potential comeback and only time will tell if we will see Penn step back into the octagon in the future.