Featherweight Goiti Yamauchi returned to the Bellator cage for the first time in 399 days on Friday night at Bellator 144 and submitted Isao Kobayashi in the third round.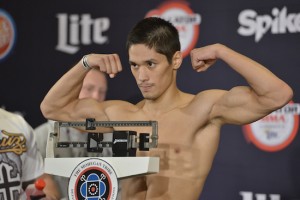 Yamauchi (19-2) dominated the fight from the opening round and nearly scored a victory in the opening round. The end of the fight would come in the third round when Yamauchi dropped Kobayashi and finished the fight with a rear-naked choke.
With the victory, Yamauchi is now tied with multiple fighters for the most submission wins in Bellator featherweight division history and this is the first stoppage defeat for Kobayashi.
"It feels great to get the victory, Kobayashi is a tough opponent. I feel my performance was good. We trained hard to improve my technique and I had a big performance today," Yamauchi said. "Patricio, I know you will beat Daniel Straus. Accept my fight afterwards. I will be the next champion."