The co-main event of Bellator 144 was a welterweight bout as Brennan Ward won his third straight fight with a TKO victory in the first round against Dennis Olson.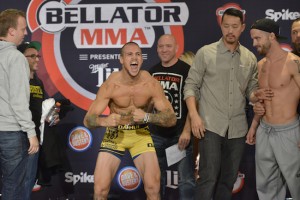 Ward (12-3) would have to depend a takedown attempt at the beginning of the fight and that would be the extent of the offense by Olson. Ward would end up landing multiple strikes on the mat before getting back to his feet.
He would end up landing a two punch combination that would cause the referee John McCarthy to call the fight and Ward is now tied with multiple fighters for the 4th most TKO/KO wins in Bellator history.
"I'm a hometown guy. Dennis and I talked a lot of stuff before the fight, but it was a battle in there. I have nothing but respect for him. He's tough as hell. He almost knocked me out off his back with an elbow."
"I love this arena and my hometown fans, I was just trying to be patient, but he's tough on the ground. My coach and dad told me that if I'm patient and land the right hand then the rest would be history." Ward said. "[Andrey] Koreshkov is a tough dude, if I'm next in line then hopefully we can bang out."