Bantamweight Dinis Paiva will be looking for his fifth straight win on Friday night at CES MMA 31 in Rhode Island as he will meet Kody Nordby on the main card broadcast on AXS TV.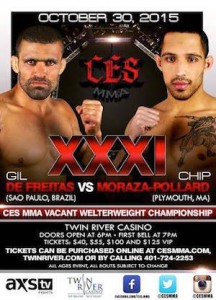 Paiva (7-5) is coming off a submission win at CES MMA 29 against Bruno Marques and all of his wins during his four fight winning streak have come in the first round.
On Thursday's edition of The MMA Report Live, Paiva joined the show to discuss his fight against Nordy and stated he truly believe he will get another first round victory on Friday night at CES MMA 31.
Check out Paiva's complete interview from The MMA Report Live below.