Invicta FC featherweight champion Cris "Cyborg" Justino will be taking a catchweight bout of 140 pounds later this year and she talked about her upcoming fight on Friday night's edition of Inside MMA on AXS TV.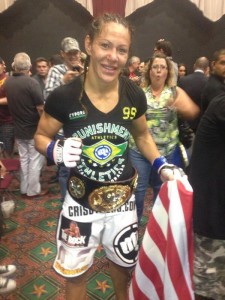 Cyborg was in attendance at the Lion Fight show and discussed how she is excited about her upcoming fight. Also, she talked about how she is feeling good and is now walking around at 165 pounds.
In addition to talking about her upcoming fight, Cyborg discussed being drug testing by USADA recently and gave her thoughts on the upcoming UFC 193 title fight between champion Ronda Rousey and Holly Holm.
Check out Justino's complete interview from Inside MMA on AXS TV below.