ONE Championship 32: Tigers of Asia will take place tomorrow in Kuala Lumpur and the fight card is now set after today's official weigh-ins.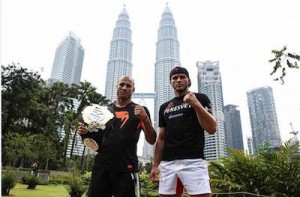 Tomorrow's fight card will come from the Stadium Putra and will be available via an internet pay-per-view for a price of $9.99.
The main card will be headlined by a title fight as Igor Svirid (184 lbs) will defend the middleweight title against Vitaly Bigdash (184.5 lbs).
"I respect all men who have the courage to step inside the cage, but the ONE Middleweight World Championship is mine and I'm not leaving without it," Svirid said. "I'm ready to show the world that my reign on top of this division will be long and dominant."
The complete ONE Championship 32: Tigers of Asia Weigh-In Results are below.
Main Card: (iPPV)
Igor Svirid (184) vs. Vitaly Bigdash (184.5)
Ann Osman (123) vs. Irina Mazepa (123)
Ev Ting (147 lbs) vs. Honorio Banario (144.5)
Peter Davis (155) vs. Adrian Pang (155)
Eric Kelly (144.5) vs. Hiroshige Tanaka (145)
Eugene Toquero (124.5) vs. Riku Shibuya (124.5)
Dae Hwan Kim (134.5) vs. Teng Li Ge (135)
Gianni Subba (125) vs. Almiro Barros (125)
Keanu Subba (144) vs. Florian Garel (144.5)
Preliminary Card: (Facebook)
Saiful Merican (135) vs. Melvin Yeoh (134.5)
Agilan Thani (170) vs. Hisham Hiba (170)