Eduardo Dantas pulled out of his upcoming title fight against bantamweight champion Marcos Galvao due to an injury and with the fight being postponed, the new main event will be Brandon Halsey meeting Rafael Carvalho for the vacant middleweight title.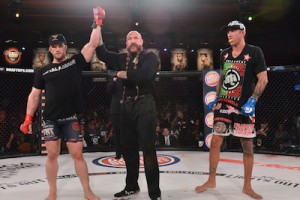 The fight postponement and new main event was announced by Bellator today in a press release.
Bellator 144 will come from the Mohegan Sun Arena in Uncasville, Connecticut on October 23 and tickets are still available for the fight card.
With the bantamweight title fight off the card, the already scheduled featherweight bout between Isao Kobayashi and Goiti Yamauchi has been elevated to the main card.
The current Bellator 144: Halsey vs. Carvalho fight card is below.
Main Card: (Spike – 9 p.m. ET/6 p.m. PT)
Brandon Halsey (9-0) vs. Rafael Carvalho (11-1)
Brennan Ward (11-3) vs. Dennis Olson (14-9)
Isao Kobayashi (18-2-4) vs. Goiti Yamauchi (18-2)
Michael Page (8-0) vs. Charlie Ontiveros (6-3)
Preliminary Card: (Spike.com – 6:50 p.m. ET/3:50 p.m. PT)
Pete Rogers Jr. (2-2) vs. Marius Enache (2-3)
Billy Giovanella (8-4) vs. Brandon Polcare (1-0)
Keenan Raymond (2-1) vs. Damien Trites (6-6)
Kin Moy (7-2) vs. Walter Smith-Cotito (3-3)
Matt Bessette (15-7) vs. Kevin Roddy (15-15)
Matt Secor (6-2) vs. Jeremie Holloway (7-0)
Sam Watford (0-0) vs. TJ Hepburn (4-1)
Ilya Kotau (1-0) vs. Kemran Lachinov (1-1)
Kevin Haley (3-3) vs. Mike Zichelle (7-3)