RFA 31 took place on Friday at the Downtown Las Vegas Event Center in Las Vegas, Nevada and was headlined by Gilbert Smith retaining the middleweight title with a fourth round stoppage victory against Bristol Marunde.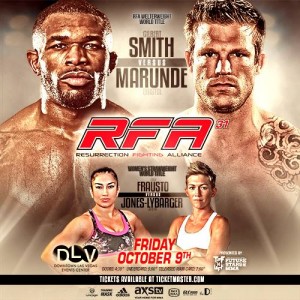 In addition to main event title fight, the co-main event was also a title fight as Jocelyn Jones-Lybarger won the vacant women's strawweight title as he defeated Zoila Frausto by unanimous decision.
The complete RFA 31 results and video highlights are below.
Gilbert Smith def. Bristol Marunde via TKO (injury) – Round 4, 2:03 at 2:03
Jocelyn Jones-Lybarger def. Zoila Frausto via unanimous decision (50-45, 50-45, 50-45)
Gabriel Checco def. Mike Jasper via submission (armbar) – Round 3, 4:17
Matt Lopez def. Justin Linn via submission (face crank) – Round 1, 2:18
Bojan Velickovic def. Vardan Sholinian via unanimous decision (30-27, 30-27, 30-27)
Zach Riley def. Shai Lindsey via submission (triangle choke) – Round 1, :59
David Arcangel def. Zane Behrend via submission (rear-naked choke) – Round 2, 1:12
Jason Pacheco def. Jamin Tayaba via submission (kimura) – Round 2, 3:54
Jeff Roman def. Hector Saldana via unanimous decision