UFC women's bantamweight champion Ronda Rousey will make her next title defense next month in Australia when she faces Holly Holm in the main event of UFC 193.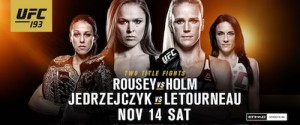 Rousey (12-0) met with the media in California on Tuesday at her gym to discuss her next fight against Holm and talk to the media for 45 minutes.
Check out the complete media scrum with Rousey courtesy of MMA Fighting.