Welterweight Sam Oropeza will fight on Halloween night for the first time in his career on Saturday at CFFC 52 as he will face LeVon Maynard at the Borgata in Atlantic City, New Jersey.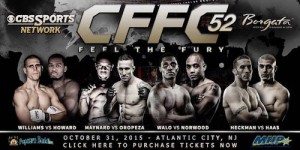 Oropeza (13-2) recently announced he was moving back to the 170 pound division and he will be looking for his ninth straight victory.
On yesterday's edition of The MMA Report Podcast, Oropeza was a guest on the show to discuss how his body is reacting to being back at welterweight and his fight on Saturday against Maynard.