Featherweight Chas Skelly will be looking for his fourth straight win on November 7 in Brazil when he meets Kevin Souza on the televised preliminary card at UFC Fight Night 77.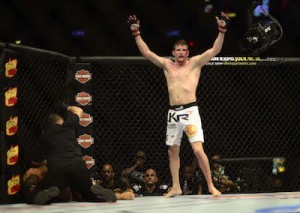 Skelly (14-1) is coming off a TKO win against Jim Alers at UFC Fight Night 60 in February and two of his three wins in the UFC have come by stoppage.
During Tuesday's edition of The MMA Report Podcast, Skelly joined the show to discuss his upcoming fight against Souza, explained why he had to pull out of a fight earlier this year, fighting outside of the United States for the first time, and the IV ban in the UFC.
Check out Skelly's complete interview from The MMA Report Podcast below.