Former Bellator lightweight champion Michael Chandler won his second straight fight on Friday night at Bellator 145 as he defeated David Rickels by TKO.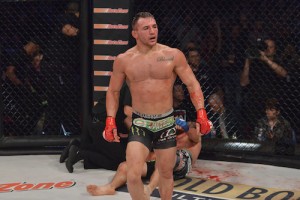 Chandler (14-3) finished the fight at the 3:05 mark of the second round and with the victory, he now has the most wins in Bellator lightweight division history.
"I've had so many people pour into my life for decades, I am thankful to all of them," Chandler said. "I just listen to my coaches and luckily tonight I got the finish. I want that title so bad I can taste it. Scott Coker, give me the winner of Marcin and Held or else I'll be forced to keep knocking out every lightweight on the roster until you do."
Check out the highlights of the fight below.