The fight card lineup for WSOF 25 has been finalized by the promotion and the opening round bouts of the one-night, eight-man lightweight tournament will take place on the online preliminary card.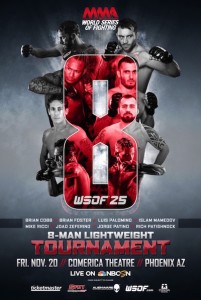 The fight card lineup was announced by the promotion on Monday in a press release.
WSOF 25 will come from the Comerica Theatre on Friday and along with the one-night tournament, the card will feature the promotional debut of lightweight Jason High.
The current WSOF 25 fight card lineup is below.
Main Card: (NBCSN – 11 p.m. ET/7 p.m. PT)
Semifinal Winner #1 vs. Semifinal Winner #2 – LW Tournament Final
Jason High vs. Estevan Payan
Quarterfinal Winner #3 vs. Quarterfinal Winner #4 – LW Tournament Semifinal #2
Quarterfinal Winner #1 vs. Quarterfinal Winner #2 – LW Tournament Semifinal #1
Preliminary Card: (WSOF.com – 8 p.m. ET/5 p.m. PT)
Joseph Barajas vs. Erik Villalobos
Jimmy Scully vs. Roberto Yong
Luis Palomino vs. Rich Patishnock – LW Tournament Quarterfinal #4
Brian Foster vs. Joao Zeferino – LW Tournament Quarterfinal #3
Brian Cobb vs. Mike Ricci – LW Tournament Quarterfinal #2
Islam Mamedov vs. Jorge Patino – LW Tournament Quarterfinal #1
LaRue Burley vs. Joe Condon – LW Tournament Reserve #2
Benny Madrid vs. Ramil Mustapayev – LW Tournament Reserve #1