The UFC 193 Preliminary Card on FS1 took place this past weekend in Melbourne, Australia and featured lightweight Jake Matthews scoring his third win in the UFC with a stoppage victory against Akbarh Arreola.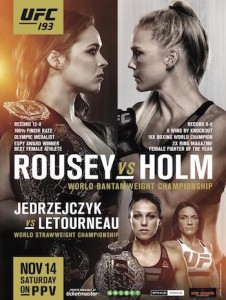 According to Nielsen sources, the UFC 193 preliminary card averaged 1,394,000 overall viewers and scored 885,000 viewers in the Adults 18-49 demographic.
The UFC 193 televised preliminary card ranks as the third most-watched in FS1 history and the peak viewership of the broadcast came in the 9:30-9:45 p.m. ET quarter hour with 1,776,000 viewers.
Prior to the televised preliminary card, the pre-fight show (7:35-8:00 p.m. ET) on FS1 averaged 576,000 viewers and following the pay-per-view, the post-fight show aired on FS 1 (1:41-2:30a ET) with 490,000 viewers.
When it came to the sports competition on Saturday night, the fight card went up against college football on ABC, FOX, and ESPN. The game on ABC between Oklahoma and Baylor was the top viewed game on Saturday with 5.884 million, while the game on FOX drew 2.795 million viewers.
Below is the UFC pay-per-view preliminary card numbers in 2015 to date.
UFC 182: 1,004,000
UFC 183: 1,546,000
UFC 184: 1,205,000
UFC 185: 1,003,000
UFC 186: 710,000
UFC 187: 780,000
UFC 188: 727,000
UFC 189: 847,000
UFC 190: 1,322,000
UFC 191: 663,000
UFC 192: 749,000
UFC 193: 1,394,000