UFC Fight Night 78 took place this past weekend at the Monterrey Arena in Monterrey, Nuevo Leon, Mexico and was headlined by Neil Magny defeating Kelvin Gastelum by split decision.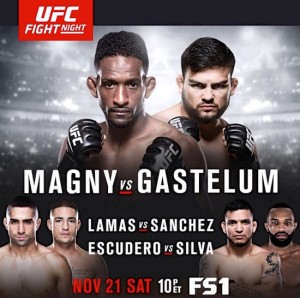 According to Nielson sources, the main card broadcast on FS1 had an average live audience of 750,000 viewers and peaked at 952,000 viewers in the 10:45 p.m. ET to 11 p.m. ET quarter hour.
When it came to the sports competition on Saturday night during the main card, the UFC card went up against college football on FOX (4.2 million), ABC (3.8 million), and ESPN (1.9 million).
Prior to the main card broadcast, the televised preliminary card also aired on FS1 and drew an average audience of 732,000 viewers. This is a 38 percent increase over the average to date of non-PPV prelim cards on FS1 (732,000 vs. 532,000) and is the 11th overall most watched non-PPV Prelim to date.
Before the televised fight card begin, the pre-fight show on FS1 was the second most-watched non-PPV Pre-Fight Show to date on FS1 with 362,000 viewers (UFC Fight Night 61 is most viewed with 489,000 viewers).
The next UFC live fight card on FS1 will be on December 11 for The Ultimate Fighter 22 Finale and will be headlined by a key featherweight bout as Chad Mendes meets Frankie Edgar.