The main event of Bellator 147 was a lightweight bout as Josh Thomson won his second straight fight with a TKO victory over Pablo Villaseca.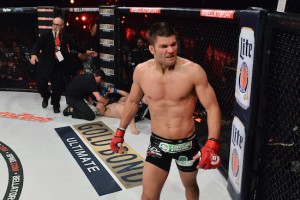 Thomson (22-8, 1NC) finished the fight at the 3:59 mark of the second round and both of his wins in Bellator have come by stoppage. Following the victory, Thomson told Bellator color commentator Jimmy Smith that he wants to give the fight the fans are calling for.
"Will Brooks is a great fighter man, and he has the belt," Thomson said. "But, regardless of the gold around his waist, the fans want me to fight Michael Chandler and I fight for the fans."
The video highlights of Thomson's win over Villaseca are below.