Kimbo Slice returned to mixed martial arts earlier this year at Bellator 138 and defeated Ken Shamrock by TKO in the first round.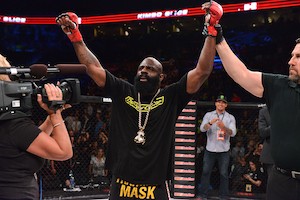 It was the first MMA fight for Slice in over five years and he will return to the Bellator cage on February 19 in Houston as he faces Dada 5000.
Slice (5-2) recently took part in a media day in Los Angeles to promote his upcoming fight against Dada 5000 and along with taking about his fight at Bellator 149, he talked about being a family man.