ONE Championship 37: Clash of Heroes will take place on January 29th in Kuala Lumpur, Malaysia and the event will be headlined by a "Malaysia Warrior" bout as Ev Ting meets Eric Kelly.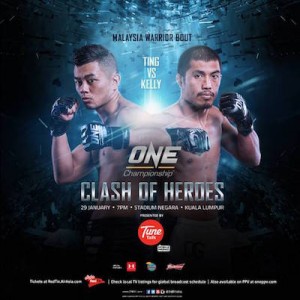 The fight card will come from the Stadium Negara and tickets for the event are available www.AirAsiaRedTix.com.
"2016 is going to be such a phenomenal year for mixed martial arts in Asia and we're doing our best to put together the most exciting fights for fans all across the world," ONE Championship CEO Victor Cui said. "Ev Ting has really proven that homegrown Malaysian mixed martial artists can go toe-to-toe with the best in the world and will now face his sternest test against one of the best fighters in his division in Eric Kelly."
The current ONE Championship 37: Clash of Heroes fight card is below.
Main Card: (iPPV)
Ev Ting (10-3) vs. Eric Kelly (12-1)
Eduard Folayang (14-5) vs. Tetsuya Yamada (15-3-2)
Jake Butler (5-1) vs. Tatsuya Mizuno (14-10-1)
Geje Eustaquio (6-4) vs. Saiful Merican (4-2)
Sami Amin (5-2-1) vs. Samir Mrabet (3-0)
Keanu Subba (2-1) vs. Rayner Kinsiong (2-1)
Christian Lee (1-0) vs. Mahmoud Mohamed (3-2-1)
Agilan Thani (3-0) vs. James Kouame (3-6)
Preliminary Card: (Facebook)
Reant Febriza Rainir (0-2) vs. Saygid Guseyn Arslanaliev (1-0)
Jenny Huang (2-0) vs. Amira Badr (0-0)