The Invicta FC 15 Weigh-Ins will take place today in Huntington Beach, California and they will be streamed live on TheMMAReport.com.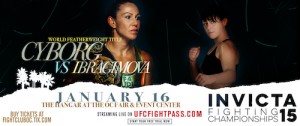 Today's weigh-ins will come from the Punishment Training Center and the weigh-ins will begin at 7 p.m. ET/4 p.m. PT.
Following the conclusion of the weigh-ins, the results will be posted.
Invicta FC 15: (UFC Fight Pass – 9 p.m. ET/6 p.m. PT)
Cristiane "Cyborg" Justino (14-1, 1NC) vs. Daria Ibragimova (9-1)
Livia Renata Souza (8-0) vs. DeAnna Bennett (8-0)
Raquel Pa'aluhi (5-4) vs. Colleen Schneider (9-6)
Amber Brown (5-1) vs. Shino VanHoose (4-3)
Angela Hill (2-2) vs. Alida Gray (4-2)
Lacey Schuckman (11-8) vs. Mizuki Inoue (9-4)
Amanda Bell (3-3) vs. Ediane Gomes (10-4)
Megan Anderson (4-2) vs. Amber Leibrock (1-0)