Following the UFC Fight Night 81 main card broadcast on FS1, the organization will hold the post fight press conference from the TD Garden in Boston, Massachusetts.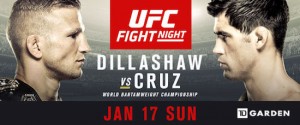 The press conference is expected to be attended by UFC President Dana White, T.J. Dillashaw, and Dominick Cruz.
The UFC Fight Night 81 Post Fight Press Conference will be streamed below and will approximately begin at 12:30 a.m. ET/9:30 p.m. PT.