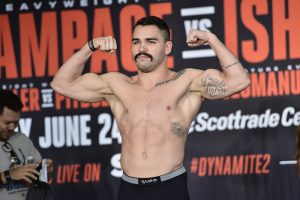 The co-main event of Friday's Bellator 194 will be a rematch from a fight that took place nearly four years ago as Patricky "Pitbull" Freire will look for to claim his second victory against Derek Campos and make his case for a title shot in the Bellator lightweight division.
Now before this fight was booked and prior to last month's Bellator 192, most people seemed to believe that Patricky would be the first title defense for current Bellator lightweight champion Brent Primus. Back when I interviewed Primus in earlier December, even Primus seemed to think that his next fight would be against Patricky. However, that is not what happened and Patricky is now facing someone he's already defeated.
I was probably like a majority of the people that follow the Bellator product that was surprised by this fight booking. While it's clearly a key matchup in the lightweight division and makes a ton of sense as a number one contender fight, I just thought Patricky would get the next title shot with Michael Chandler booked to face Goiti Yamauchi at Bellator 192. Did Patricky have the same feeling?
"I did. I was waiting to get this fight, specially after they booked Chandler against Goiti," Patricky told The MMA Report. "A month or so after my fight against Henderson, I had told Bellator that if they were to go with the Chandler rematch, to book me versus Goiti on the Los Angeles card but they said the card was full. Not only they didn't give me the Primus fight, a few months later, they gave Chandler the fight and date I wanted and the Primus fight right after. Talk about playing favorites."
With Chandler getting the rematch against Primus and Patricky being passed over for the title shot, Bellator offered the long time Bellator lightweight a rematch from Bellator 117. For those who do not remember, that fight was part of the Season 10 Tournament and Patricky ended up scoring a stoppage victory in the second round. Since Patricky already has a win over Campos, what was his initial thoughts when Bellator made this fight offer.
"I asked to fight Primus. On that same day he was tweeting about being ready to go, I told Bellator to give me Primus on this date then," he said. "But they said they'd book him against Chandler if Chandler beat Goiti. I asked for someone I hadn't fought yet and they said if I wanted to fight on that date it'd be against Campos. A lot of things happened that I don't want to go in detail and then I accepted it. Campos has done great and he definitely is worth of a number one contenders match. It's nothing against him or looking past him, but I had two fights taken away from me and wasn't happy with them making it the Chandler show. Campos is very tough and they had tried to book us a few times, so I knew it'd end up happening sometime."
Now one of the clichés we tend to hear in the fight game is that the fighter who lost the first matchup has an advantage in the second matchup. Clearly, the fighter who won the first fight is not going to have that mindset, but I did ask Patricky what he remembers about the first matchup with Campos and how do you expect this fight to be different.
"I remember he did very well in the first round. Actually of all the fights I had, I believe that one was the toughest. Campos is a top fighter for sure. But I made some adjustments in the second and was able to finish the fight. I'm hoping it goes the same way, without his early success."
Now if you are a regular listener of my podcast, you are likely aware of there is a certain question I like to ask fighters. For those who are not aware of this question, I ask fighters if there's anything they would want fans to know about you? And I ended my interview with Patricky with this question and simply put, he wants to use this fight as a platform for fans to demand to see him fight the winner of the Primus vs. Chandler title fight that will take place in two months.
"There are a lot of things that happen in our daily lives that the fans never hear about, our struggles and also the good things. Back when I first fought Campos I was coming out of the bottom of a well," Patricky stated. "This time things are much different, I'm also a better fighter, and I hope it shows in our fight. I'm looking forward to performing very well and to have the fans demanding Bellator to give me a title shot against whoever has the belt later."