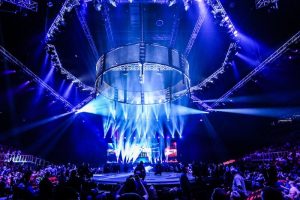 Bellator MMA will have its only show in March tonight as Bellator 195 will come from the WinStar World Casino in Thackerville, Oklahoma and the fight card will be headlined by a title fight as Darrion Caldwell will defend the bantamweight title against Leandro Higo.
The fight card will get kicked off with the online preliminary card at 7 p.m. ET/4 p.m. PT and there are two fighters on the prelims that have my interest. Those fighters are Romero Cotton and Kevin Holland. Cotton made his pro debut last July and this will be his second fight, while Holland recently won the XFO middleweight title at the beginning of this year.
When it comes to the main card, I am all-in on the main event between Caldwell and Higo. Looking at the betting odds for this fight and Caldwell is just under a 3 to 1 favorite. While I do not bet on fights, I like the value on Higo in this matchup. I do get the feeling that people are underestimating Higo in this matchup, but I think that has more to do with Caldwell's ceiling in the sport than Higo. The tough part for me in picking Higo in this matchup is the reach disadvantage he will have tonight. Caldwell will have a 5 inch reach advantage, so Higo is going to have to work his way inside if this ends up being a striking matchup. Now if this does go to the ground, I will be interested to see how Caldwell handles the jiu-jitsu game of Higo.
Just like the main event, the co-main event is a bantamweight bout and it will feature a former Bellator champion as Joe Warren will look for back to back victories for the first time since 2014 when he takes on Joe Taimanglo. Late last week, I had a chance to speak with Warren and my takeaway from the interview was basically that Warren is wondering what Bellator's plans are for him. Even with a win over Taimanglo, I do not expect for Warren to be in line for a title shot as I expect Michael McDonald to face the winner of tonight's main event. Breaking down the fight between Warren and Taimannglo is a pretty simple one: Can Taimanglo keep this fight on the feet? If he can do that, I think he will get the victory but if Warren gets the fight to the ground, it's Warren's fight to lose.
In the other two fights on the main card, Emily Ducote will look to bounce back after losing to Ilima-Lei MacFarlane in the inaugural Bellator women's flyweight title fight as she takes on Kristina Williams and Juan Archuleta will make his Bellator debut when he takes on William Joplin.
Bellator 195 Pre-Fight Stats
– Caldwell owns the 2nd fastest submission victory in Bellator featherweight division history (:50 vs. Lance Surma, Bellator 112).
– Caldwell has the 4th most wins (5) in Bellator bantamweight division history (Eduardo Dantas and Warren are tied for most wins).
– Caldwell is tied for most submission wins in Bellator bantamweight division history.
– Warren is currently tied with Pat Curran for the 2nd most wins in Bellator history and with a victory tonight, he will tie Patricio Pitbull and Michael Chandler for the most wins in promotional history.
– Warren has the 2nd most total fight time (3:52:11) in Bellator history (Pat Curran #1, 4:19:39).
My Bellator 195 Picks: Caldwell, Warren, Ducote, and Archuleta.