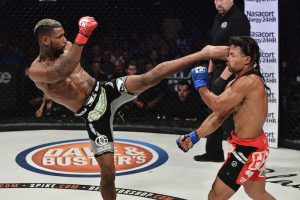 The main event of tonight's Bellator 195 will be a title fight as Darrion Caldwell defends the Bellator bantamweight title against Leandro Higo and Jason Herzog will the third man in the cage.
Herzog was assigned as the referee for the title fight by the Chickasaw Nation, who will be the regulator for tonight's fight card that will come from the WinStar World Casino in Thackerville, Oklahoma. Along with assigning Herzog as the referee, Mike Bell, Eric Colon, and David Sutherland will be the judges for the title fight.
Tonight's fight card will kick off with the online preliminary card at 7 p.m. ET/4 p.m. PT (Available on Bellator.com) and the main card broadcast on the Paramount Network will begin at 9 p.m. ET/6 p.m. PT.
Main Card: (Paramount Network – 9 p.m. ET/6 p.m. PT)
Darrion Caldwell (10-1, 1NC) vs. Leandro Higo (18-3)
Joe Warren (15-6) vs. Joe Taimanglo (23-8-1)
Emily Ducote (6-3) vs. Kristina Williams (1-0)
Juan Archuleta (17-1) vs. William Joplin (17-14)
Preliminary Card: (Bellator.com – 7 p.m. ET/4 p.m. PT)
Fernando Gonzalez (2-0) vs. Armando Servin (4-5)
Cris Williams (4-0) vs. Daniel Carey (4-2)
Romero Cotton (1-0) vs. Justin Reeser (1-1)
Ky Bennett (0-1) vs. Morgan Solis (2-1)
Teagan Dooley (6-2) vs. Kevin Holland (11-3)
Thomas Lopez (1-3) vs. Aaron Webb (1-1)
Brian Grinnell (10-7) vs. Justin Patterson (9-4)