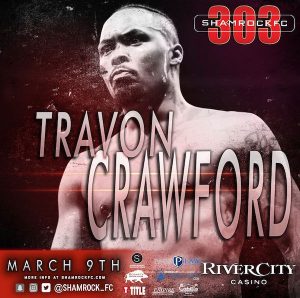 After having eleven amateur fights and making a successful professional mixed martial arts debut last year, Travon Crawford will be in the main event of a fight card as he will be facing Brandon Lowe on Friday night at Shamrock FC 303 in St. Louis.
The mixed martial arts journey for Crawford began in the middle of 2012 when he took his first amateur fight and his final amateur fight came nearly one year ago at Shamrcok FC 286, when he defeated Kevin Mueller by decision.
Following that fight, he made the decision to turn professional and was originally scheduled to make his professional debut in August at Gateway Fighting Series against Aushton Midkiff. However, the fight with Midkiff did not take place on that night and it would end up taking place in November at Guns 'n Hoses. He would score a stoppage victory in the second round and he will now take on Lowe in the main event of the fight card coming from the River City Casino.
I had an opportunity to chat with Crawford recently about his matchup against Lowe on Friday. During our conversation, which the complete chat we had is below, I spoke with him about facing Lowe, sharing a comment opponent, what his parents thought when he told him that he was going to become a professional fighter, the origin of his nickname, and his nephew also being a fighter.
Shamrock FC 303 will be available via an internet pay-per-view on the promotions website.