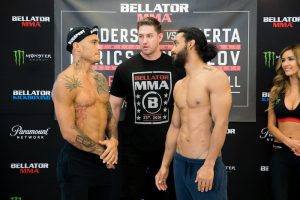 Bellator 196 will take place on Friday from the Budapest Sports Arena in Budapest, Hungary and will be headlined by a lightweight matchup as former WEC and UFC champion Benson Henderson will look to snap a two fight losing skid when he takes on fellow mixed martial arts veteran Roger Huerta.
With this being an international event on a Friday, the fight card will air via tape-delay on Friday night in the United States on the Paramount Network at 9 p.m. ET/6 p.m. PT and if you are looking to avoid spoilers, I would advise to stay off mixed martial arts Twitter starting at 3 p.m. ET/12 p.m. PT on Friday.
I will do my best to avoid spoilers, but since I monitor social media a majority of the day for my job, I am sure I will see what happens at Bellator 196 before it does air on the Paramount Network.
Now I know there are articles that get written about "X" amount of reasons to watch this event and for me, there are two reasons to watch Bellator 196 on Friday night or at some point on the DVR. The number one reason for me and likely for a majority of the mixed martial arts community is Benson Henderson. Since coming over to Bellator, it's not gone as planned. He has dropped three of his four fights in the promotion and those defeats have come against Andrey Koreshkov, Michael Chandler, and Patricky "Pitbull" Freire. All of those losses have come by decision and his recent defeats against Chandler and Pitbull have come by split decision.
One of the popular phrases that myself and Daniel Galvan like to say on The MMA Report Podcast is a fighter being at the crossroads and this is exactly where I see Henderson at currently. Even with the recent defeats in the lightweight division, he should still be considered one of the best lightweights in Bellator and no one should be writing him off. On Friday, he faces a fighter that you could also say is at the crossroads. Roger Huerta is coming off a disqualification win against Ultimate Fighter alum Hayder Hassan and has won back to back fights after going 1-6 in his previous seven fights.
This is a huge opportunity for Huerta as he only signed a one-fight deal with Bellator and with a victory, he puts himself in a great position to land a nice contract from Bellator or another mixed martial arts promotion. My pick in the fight is Henderson and he's a significant favorite on the betting lines as he's a 10-1 favorite.
My second reason why I am interested in this fight card is about Ed Ruth. If you missed it, I was joined by Ruth on last week's podcast and it was interesting to hear him talk about his decision to drop to the welterweight division. The matchup against Ion Pascu is a catchweight bout of 175 pounds due to Ruth's opponent pulling out of the fight last week due to injury and Ruth is someone that could end up being the Bellator welterweight champion at some point.
When it comes to his opponent, he's facing a veteran of the sport. Pascu has twenty-four professional fights and enters this fight with back to back victories. He has faced some notable competition in the past including Jack Marshman and Jack Hermansson. This should be a good test for Ruth and I do expect to see him improve to 5-0.
Bellator 196 Pre-Fight Stats:
– Benson Henderson will be looking for his 2nd win in Bellator as his only win in the promotion came against Patricio "Pitbull" Freire via injury at Bellator 160 in 2016.
– Roger Huerta is looking to score three straight victories for the first time since 2007.
– Adam Borics won his Bellator debut last year at Bellator 177 and five of his ten victories have come by submission.
– Teodor Nikolov is making his Bellator debut in his matchup against Borics and he's won six in a row, all by finish.
– Denise Kielholtz will look for her second win in mixed martial arts competition when she faces Petra Castkova, who took this fight on short notice when Lena Ovchynnikova pulled out of the fight.
– Brian Moore will have his fourth fight in Bellator when he faces Giorgio Belsanti and enters this fight following a decision lost against AJ McKee in the main event of Bellator 187.