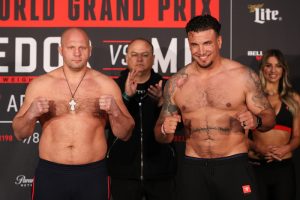 The seventh event of 2018 for Bellator MMA will take place tonight as Bellator 198 will come from the Allstate Arena in Rosemont, Illinois and as I said earlier this week on The MMA Report Podcast, I believe this is a critical event for the current management team of Bellator.
It's been widely discussed how the Bellator television ratings have been down this year, but as I have said over the past couple of months, the intrigue with MMA has been down across the board.
Now with that being said, I am expecting for this card to draw a good viewership number on the Paramount Network and have to believe the main event could draw close to the one million range. But if this card draws a low number like the previous five Bellator events, I can't help but wonder what Viacom executives would think due to the amount of money that's being spent currently by the promotion to obtain top fighters.
Looking at this card on paper, it's pretty much all about the main event. Even though he's an older heavyweight, there is still something special about having the opportunity to see Fedor compete in mixed martial arts. I must admit that it wasn't that long ago that I counted out Fedor and that was mainly due to the punishment he took in the matchup against Fabio Maldonado in 2016. And when you speak of being counted out, that has happened to Frank Mir several times in his career.
When it comes to how this fight will go, this is a pick'em type fight for me. I do not expect to see this fight go all 15 minutes, but I would love to see this hit the canvas and see who would win a grappling matchup between these two heavyweight veterans. And when you say heavyweight veterans, I think the line that could be used to describe both of their careers is that you can not write the history of MMA heavyweights without mentioning both of them.
I do recommend that you listen to the conversation I had last week on the podcast with Angelo Reyes, the striking coach of Mir. One of my big takeaways from that conversation was how foot work is going to be a key for both fighters. If Mir is a stationary fighter, I think you have to give Fedor an edge in the fight. However, I think Mir will not be stationary and will find a way to win this fight. Whether it's Mir or Fedor, I expect the winner of this fight to get past Chael Sonnen in the semifinals of this heavyweight tournament and face either Matt Mitrione, Ryan Bader, or King Mo in the final.
As I mentioned earlier in this article, this is a top heavy card but there is some other interesting matchups and/or fighters to pay attention to. In the co-main event, Emmanuel Sanchez will look to secure his place as the number one contender in the featherweight division when he takes on UFC veteran Sam Sicilia. Sanchez is coming off a submission victory against former Bellator featherweight champion Daniel Straus and Sicilia wants to become the first person to defeat Sanchez by stoppage.
When it comes to the rest of the main card, I am interested to see the MMA debut of Dillon Danis. I have seen people complain about the matchup in this fight, but I think this is smart matchmaking by Bellator and the Danis team. There is no reason to throw him into the fire in his first fight. Let him get his feet wet and see how he performs. He is a massive betting favorite and I do expect to see him get a submission win.
Bellator 198 Pre-Fight Stats:
– Fedor Emelianenko will be looking for his first win since defeating Fabio Maldonado nearly 2 years ago (680 days ago).
– Tonight marks the first fight for Frank Mir in 2 years (770 days ago) and this will be only his 3rd professional fight (29 career fights) to take place outside of the UFC.
– Emmanuel Sanchez has the 5th most wins (6) in Bellator featherweight division history (Patricio Pitbull #1, 14).
– Sam Sicilia won his Bellator debut in December against Marcos Galvao and the victory snapped a three fight losing streak.
– Neiman Gracie has the most submission wins (3) in Bellator welterweight division history.
– Javier Torres is currently on a five fight unbeaten streak and tonight marks his first fight in 714 days.
– Rafael Lovato Jr. will be looking to improve to 8-0 and six of his seven wins have come by stoppage (2 TKO/KO, 4 Submissions).
– Gerald Harris took the fight against Lovato Jr. on Tuesday when John Salter pulled out due to injury and he enters the fight riding a four fight winning streak.
– Dillon Danis will be making his pro debut against Kyle Walker, who enters this fight following back to back 1st Round submission defeats.
My Bellator 198 Picks: Mir, Sanchez, Gracie, Lovato Jr, and Danis.