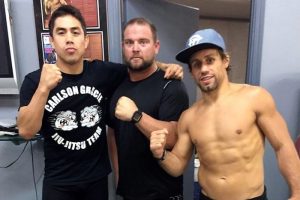 "The Juggernaut" Josh Appelt will look to extend his winning streak to four fights next Saturday night (April 14) when he meets Bill Widler on the King of the Cage event coming from the Gold Country Casino in Oroville, California.
Appelt (15-6) has scored three straight TKO/KO victories since losing to Bobby Lashley at Bellator 162 in October of 2016 and his last three fights have lasted a total of three minutes and five seconds. His most recent victory came in October at King of the Cage: Last Stand and he defeated Anthony McDonald in 48-seconds.
I recently had a chance to catch up with Appelt to discuss his upcoming fight at King of the Cage: No Escape. Along with previewing his fight, Appelt spoke about the improvements to his wrestling game since the Lashley fight and how he balances his scheduled between work, training, family, and being a youth sports coach.