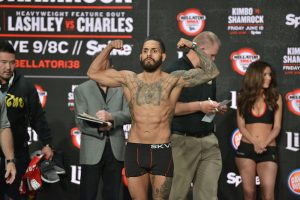 UFC 229 took place last weekend in Las Vegas and on this week's episode of The MMA Report Podcast, Jason Floyd and Daniel Galvan discuss everything that happened in and out of the octagon. Plus, Jason has conversations with Angelo Reyes, Henry Corrales and Ray Rodriguez.
At the beginning of this episode, Jason and Daniel discuss the actual fight that took place at UFC 229 between Khabib Nurmagomedov and Conor McGregor. They tell you what surprised them about the fight and then you will hear Jason's conversation with boxing and MMA striking coach Angelo Reyes, who talks about what he saw from Conor McGregor.
Following the conversation with Reyes, the guys recap the rest of UFC 229 including the post fight interview given by Derrick Lewis and how he's now fighting Daniel Cormier for the heavyweight title next month at UFC 230 in New York City. After discussing all things UFC 229, the conversation turns over to this weekend's Bellator events. Find out who Jason and Daniel pick in the main event of both cards and which undercard fights that stick out to them.
Then it's the fighter interview portion of this week's podcast as Jason chats with Bellator 208's Henry Corrales and LFA 52's Ray Rodriguez. Corrales previews his fight on Saturday against Andy Main and Rodriguez discusses his fight against Chris Gutierrez. Upon the conclusion of those conversation, Jason and Daniel take a look back at PFL 8 and preview Saturday's PFL 9. Finally, they end the show by doing the weekly Buy/Sell segment and discuss a couple of fight bookings announced this week.
This episode of The MMA Report Podcast is brought to you by Romans. Roman is a one-stop-shop where licensed US physicians can diagnose ED and ship medication right to your door. With Roman, there are no waiting rooms, awkward face-to-face conversations, or uncomfortable trips to the pharmacy. You can handle everything discreetly online. For a free online visit, go to GetRoman.com/MMAREPORT, fill out a brief medical onboarding, chat with a doctor, and get FDA-approved ED meds delivered to your door in discreet, unmarked packaging.
Follow The MMA Report on Twitter: @TheMMAReport
Like The MMA Report on Facebook: The MMA Report
Subscribe to the podcast on Apple Podcasts, Stitcher and Google Play