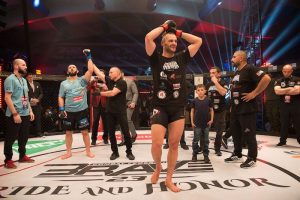 Brave 23: Pride and Honor took place on Friday at the Martyr Rashid Al-Ziyoud Hall Boxing Arena in Amman, Jordan and was headlined by Abdoul Abdouraguimov remaining undefeated with a split decision victory over Jarrah Al-Selawe to win the Brave welterweight title.
Along with the welterweight title fight, two other champions were crowned on the main card as Eldar Eldarov won the super lightweight title with a decision victory over Mounir Lazzez and Luan Santiago won the lightweight title with a knockout in the first round against Abdul-Kareem Al-Selwady.
In addition to the title fights, the main card of Brave 23 featured the promotional debut of former UFC flyweight Jose Torres and he scored a unanimous decision win over Amir Albazi.
The complete Brave 23: Pride and Honor results are below.
Main Card:
Abdoul Abdouraguimov def. Jarrah Al-Selawe via split decision (48-46, 46-48, 48-47)
Eldar Eldarov def. Mounir Lazzez via unanimous decision (50-45, 50-45, 49-46)
Luan Santiago def. Abdul-Kareem Al-Selwady via knockout – Round 1
Hashem Arkhagha def. Jeremy Smith via knockout – Round 1
Khamzat Chimaev def. Ikram Aliskerov via knockout – Round 1
Jose Torres def. Amir Albazi via unanimous decision (29-28, 29-28, 29-28)
Preliminary Card:
Aidan James def. Jalal Al Daaja via TKO – Round 3
Anas Siraj Mounir vs. Alex Martinez declared a no-contest (accidental low blow by Martinez)
Ali Qaisi def. Georges Bardawil via unanimous decision (30-27, 30-27, 29-28)
Akhmed Magomedov def. Steven Gonçalves via unanimous decision (30-27, 30-27, 30-27)
Ahmed Amir vs. Sam Patterson fought to a split draw (28-28, 29-28, 27-29)
Hassan Talal def. Mohammad Aly via TKO – Round 2