Following his win at UFC 146 over Antonio "Bigfoot" Silva, Cain Velasquez was told that he would be the next title contender for Junior dos Santos and he is waiting to hear when the fight will happen.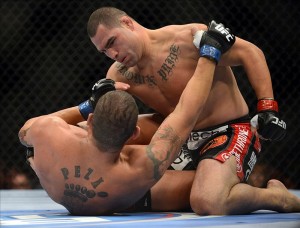 Velasquez was a guest on last night's "Inside MMA" on AXS TV and addressed the rumors of everything going on with this fight.
The former champion said he has not heard from the UFC when the fight will happen. He also said that he is ready to go and the rumors of him being injured are not true.
"There was speculation that I was hurt and I got an X-Ray to show that I am not," Velasquez said. "There is speculation that he (Dos Santos) is hurt maybe, I don't know whats going on. I'm just getting ready right, waiting for a date for me and him to fight."
UFC President Dana White indicated after UFC on FX 3 in early June that it was being targeted to have this title fight at UFC 152 in Toronto. However, the fight is not happening on that fight card and there has been no word on a rumored date for the heavyweight title fight.