During yesterday's UFC on FOX 4 conference call, UFC President Dana White stated that the winner of Saturday night's main event between Mauricio "Shogun" Run and Brandon Vera would earn a title shot.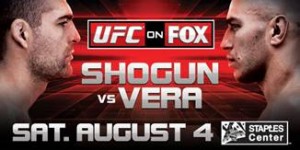 However, White has changed his mind and he told USA Today that Lyoto Machida and Ryan Bader are also competing for a title shot.
White told the newspaper that the fighter that is "most impressive," will be the guy who gets the next title shot. The current champion is Jon Jones and he will be defending his title on September 1st against Dan Henderson at UFC 151.
The UFC tends to listen to their fans on various social media platforms and fans were not happy that a win by Vera would get him a title shot.
"When the fans speak, we listen," White said. "So whoever scores the best win, whoever gets the fans excited by going out there on Saturday and looking the most impressive, he will get the winner of Jones vs. Henderson. It is down to what these four guys do Saturday night in the Octagon. Winning isn't enough, they've got to win impressively. Any one of these four fighters can take things into their own hands and make a title shot happen."
It would appear that the two fighters that are fighting for a title shot are Shogun and Bader. Shogun has gone 1-1 since his lost to Jones at UFC 128 and is coming off the fight of the year in 2011 to Dan Henderson. Bader has won his last two fights after a two fight losing streak and is coming off a decision win against former champion Quinton "Rampage" Jackson at UFC 144.
It will most likely be a tough sell to the UFC fans if the organization elects to give Vera or Machida the title shot, even with an impressive victory. Machida's last fight was a submission lost to Jones at UFC 140 and he is 1-3 in his last four fights. Vera seems even a less likely candidate since he is 1-2, 1NC in his last four fights and his only win came against Eliot Marshall at UFC 137 by decision.
Should the most impressive fighter in the main or co-main event be the next guy or should they have to win another fight to get a title shot?